Guitar for your Ceremony €200
Live Guitar during your Ceremony.
Playing traditional, contemporary or original guitar pieces.
My PA can be used indoors or outdoors for groups up to 150, and produces crystal clear, feedback free sound. The PA is an array/column type unit in white, which will blend perfectly with your decor.
Wedding Services
Drinks Reception Instrumental Guitar €200
Playing a mix of; Classical, Jazz Standards, Pop, Soft Rock and Original pieces. Beautiful Background music softly amplified by the superb Maui 28 in appropriate white. Includes the use of the PA to announce the start of the reception dinner.

Terms and Conditions
My commitment to you:

I will communicate with you and/or your representative in a prompt and clear fashion.

I will, to the best of my ability, accommodate any reasonable requests.

I will do everything in my power to ensure that my part in your day is as wonderful and supportive as possible.

I will arrive on time and with all of my equipment.

I will be appropriately dressed and will be courteous to your wedding party and venue staff.

I will have replacement equipment on hand in case of failures or breakages.

I will do my very best to follow your timetable and order of service.

Your responsibilities:

My minimum order is €200.
Dates are secured only after receipt of a non-refundable €100 deposit.

Full payment must be made, (in cash) at the end of my role, the person to approach for payment should be identified before the start of the event.

Requests for live guitar music not on my list should be made at least three months in advance. The 1st new piece is free, subsequent pieces are charged at €30 e.a.

Access to the venue with adequate setup time, on site parking, permission to perform, and access to a power supply must be confirmed by you before booking. (a portable battery powered system can be used in situations where electricity is not available. Please let me know in advance if this is the case. NB. This will not be the white Maui system and is not suitable for more than 50 people.)

Both my equipment and myself are temperature and water sensitive! We will require shade/shelter (depending on weather) for the duration of our set.

A travel charge will be applied for venues more than 100KM from Fuengirola.

Any parking charges will be added to your bill.

My equipment has been selected for its unparalleled sound, reliability and esthetics. It is portable, but takes a short time to set up and take down. This should be taken into consideration when organising movements from one location to another, e.g. from Ceremony to Reception.



A passion for strings!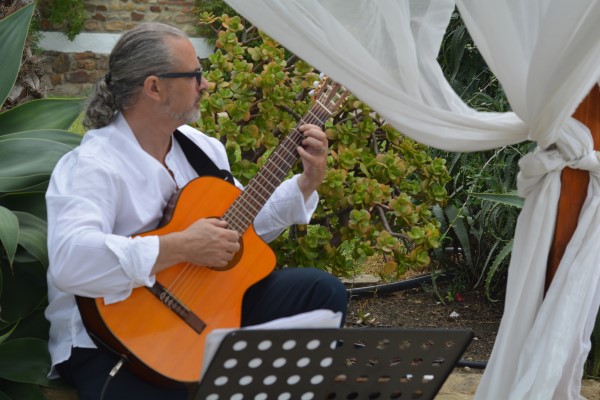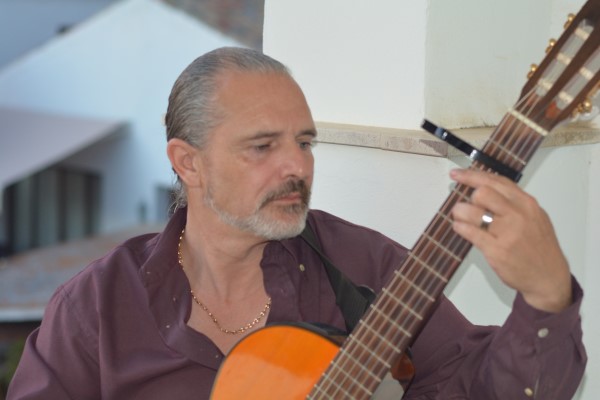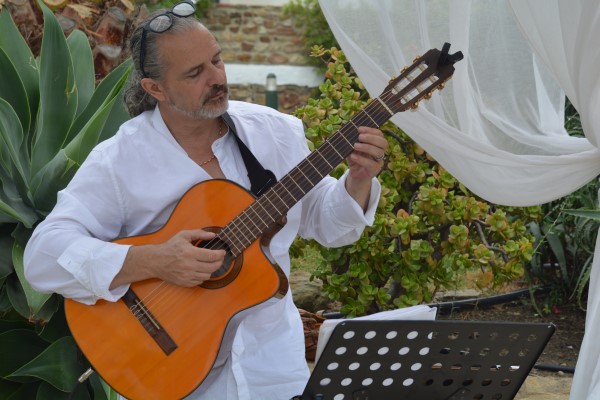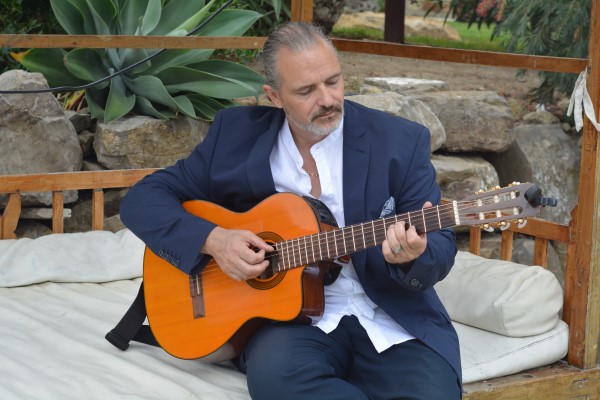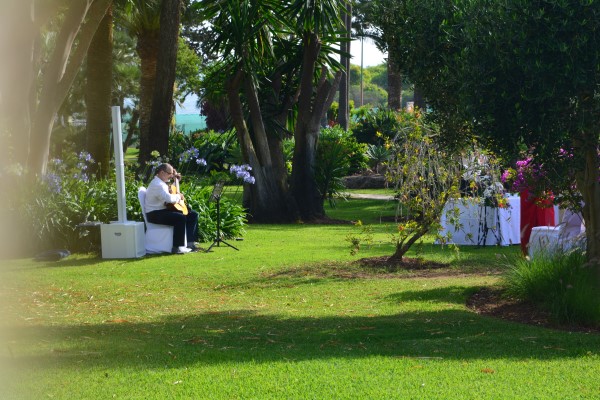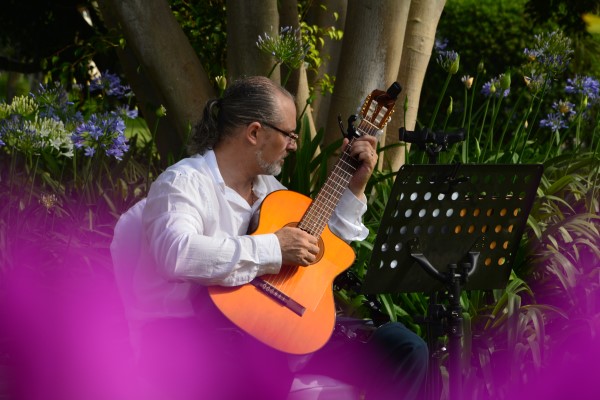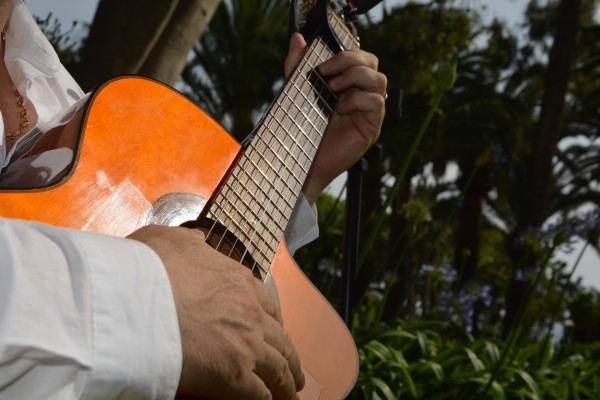 "Your playing was just perfect for the setting of my wedding and my guests said they loved just sitting and listening to you and your guitar in the sunshine, so very relaxing. Thanks so much again. I Would certainly recommend you to anyone who asks! "Alana and Ryan.

"Wow, what fantastic guitar playing. I will definitely be recommending you to clients."
Liz, ceremoniesinspain.com
My 80 most requested pieces, listed by category. The whole list takes three and a half, to four hours to play.

Classical
·Adalita
·Air on a G string
·Cannon in D
·Greensleeves
·Gymnopedie No1
·Lament
·Lagrima
·Romanza
·Scarborough Fair
·Wedding March
·Wild Mountain Thyme

Jazz
·Amazing Grace
·Amore
·Autumn Leaves
·Baby I'm a fool
·Cry Me A River
·Feelings
·Fly me to the moon
·Georgia on my mind
·I don't know why
· In a sentimental mood
·Misty
·Moon River
·Over the Rainbow
·Satin Doll
·Summertime
·The girl from Ipaneama
·The shadow of your smile
·What A Wonderful World

Pop
·Aint no sunshine
·Blackbird
·Cannonball
·Fields Of Gold
·Fire and Rain
·Fragile
·Free falling
·Gravity
·Hallelujah
·Hello
·Here comes the sun
·I Can't Help Falling in love
·If (Bread)
·isn't She Lovely
·Jesse
·Just the two of us
·Katie
·Lovely day
·Marry me
·Make you feel my love
·My Heart Will Go On (Titanic)
·Shape of my heart
·Someone like you
·Something in the way she moves
·Streets of London
·Tears in heaven
·Time after time
·True colors
·Vincent
·When you say nothing at all
·While my guitar gently weeps
·Wonderful tonight
·Yesterday
·You Are The Sunshine Of My Life

Blues
·Magnolia
·Still got the blues
·Stormy Monday
·The thrill is gone

Original
·Agridulce
·Alan's song
·Blue Lori
·Blues for Alvin
·Blues in E
·Noels song
·Rock don't shuffle
·Smooth Larry
·Spanish medley
·Spring rain
·Tango Andaluz
·The Loar Groove

Adel
·Someone like you
·Make you feel my love

Beatles
·Blackbird
·Here comes the sun
·Something in the way she moves
·While my guitar gently weeps
·Yesterday

Bill Withers
·Aint no sunshine
·Just the two of us
·Lovely day

Cyndi Lauper
·Time after time
·True colors

Elvis
·I cant help falling in love

Eric Clapton
·Tears in heaven
·Wonderful tonight

Sting
·Fields Of Gold
·Fragile
·Shape of my heart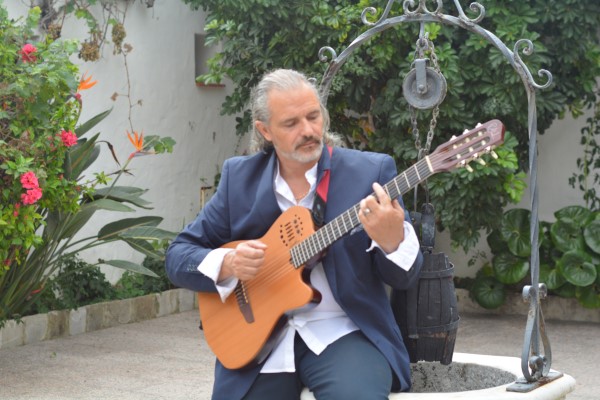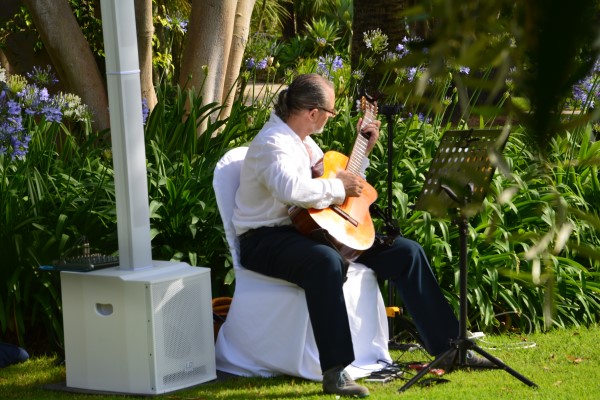 Ceremony and Drinks Reception Package €325
Live guitar during your ceremony and up to 11/2 hours of live guitar for your drinks reception.
Includes the use of the PA to announce the start of the reception dinner.


"Hey Mark
Thank you so much for your beautiful music, it was just perfect :) All of our guests are still talking about you! Thanks!" Becky
Other services and combinations are available,
Microphone Hire (Lapel, Cordless, Corded, Condenser). IPhone Disco Hire, Disco Lights, etc. If you have a request please ask for a quote.